We are so excited to be sponsoring a link-up with the blog
Just. Be. Enough.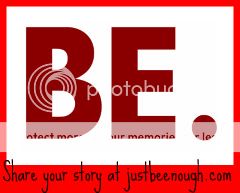 Just. Be. Enough
was recently created by
Elena Sonnino
. Elena was inspired to write this blog after reading a post about accepting ourselves even with our imperfections.
Elena Sonnino
explains that her blog
Just.Be.Enough
. hopes to share the stories, the voices, the truths of many. Its mission is to empower, inspire, and remind women, parents, and children that that the time has come to celebrate ourselves. We must carry the weight of confidence and empowerment on our shoulders instead of allowing the burden of our flaws and imperfections to push us down.
What is not to love about all of that?
When Elena approached
Bellflower Books
about working together, I did a little research and found out that Elena is a cancer survivor. My business partner (who is also my best friend) lost her mother to cancer a little over two years ago. I honor of Heather's mother, one of the missions of our company is to use our product as a support tool for people who are battling illness or as a way to pay tribute to a special life lost.

So, a little over a week ago
Bellflower Books
and
Just.Be.Enough
launched our campaign to work together and provide up to 10 $75
Bellflower Books
gift certificates, to families identified by
Crickett's Answer
, for the creation of a 20-page memory book.
Crickett's Answer
is a non-profit that helps support the self esteem and morale of women by providing pampering resources to women facing breast cancer. It is our hope that loved ones receiving these gift cards will then be inspired to create a book full of love and support to give to the special woman in their life battling cancer. A
Bellflower Book
is the perfect way to remind someone how loved and appreciated they are while going through a difficult time in their life.

For ONE month, starting on August 22nd. For
every 20 people that link up
with a story of how they lived the Be Enough Me "feeling" that week, Bellflower will donate ONE $75 gift certificate to a family identified by
Crickett's Answer
for the creation of a
20-page memory book
. We will keep a running total of links over the four Mondays and hope to reach our goal of 120 links, which would provide TEN Bellflower memory books.
This campaign has been dedicated by Elena Sonnino to her good friend
Susan Niebur
(aka @Whymommy).
Susan was recognized at the
Type A Parent conference for her bloganthropy work.
She is a mom, an astrophysicist, a writer and a friend and has been fighting metastatic breast cancer in her spine, hip, and ribs for four years.
All of this should give you the encouragement you need to reach out,
link up
and help us provide much needed love and support to as many women possible!